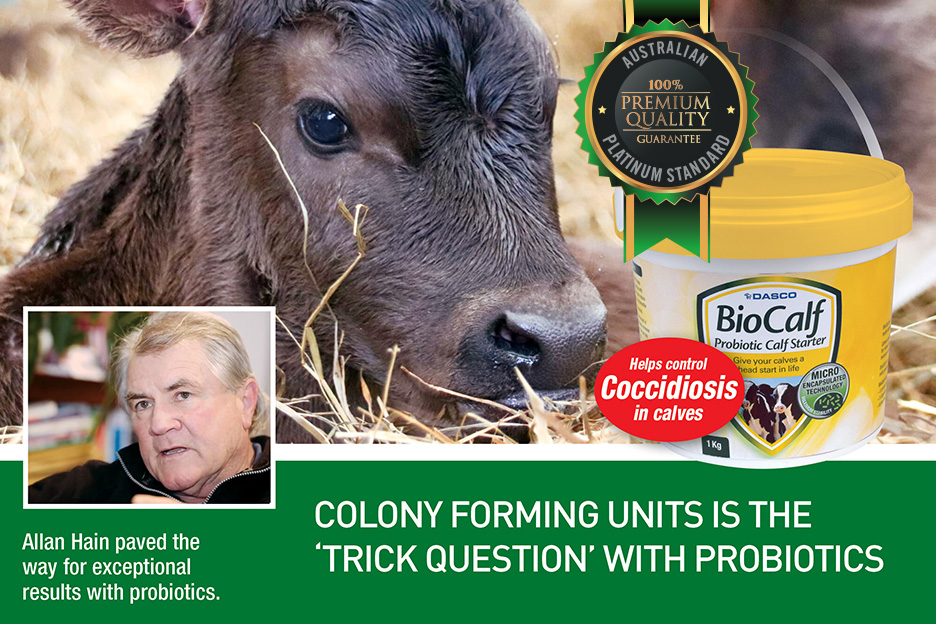 Click on the link for more info – BioCalf – BioBoost
Three questions separate the pretenders from "the real deal" in probiotic efficacy, says the grandfather of the live micro-organism debate.
Allan Hain says there is no longer any question that quality probiotics work, and they are an important part of the future of dairying. However, he warns that there are some important distinctions between product strength and modes of action of which farmers should be wary. He believes these questions are directly linked to the results of which probiotics are capable. And, that they aren't being answered well enough…
Much of this highly focused, passionate probiotic advocate's career has been in "good bacteria", with his work giving him strong credibility on the subject throughout Australasia.
It was 1998 when he first began marketing probiotics in Australia under the company name Performance Probiotics. He faced widespread scepticism at that time, sleeping in a swag in the back of his van and fearlessly driving up the driveways of some of Australia's highest-performing farmers. It was a brutal audience on a good day.
However, Allan earned their respect and their business, achieving some telling results in the process.
His dogged curiosity also drew him to microbiologists at the highest levels in North America, and to the best products coming out of the United States, Japan, Austria and Germany. It also helped him lay some important groundwork for vital applications for probiotics in the dairy and calf sheds in 2020.
THREE QUESTIONS FARMERS NEED TO ASK…
Allan's formulations are the science behind two next-level calf-rearing support systems, BioCalf and BioBoost.
BioCalf is a double-strength probiotic milk-additive powder for calves; it contains Australia's only all-natural coccidiostat and is added to the milk every day.
BioCalf's sister product – BioBoost paste – is 40 times stronger than any other probiotic on the market, is easily administered orally, and designed for new, sick and stressed calves.

BIOBOOST – 40 times more concentrated probiotic paste
ALLAN URGES FARMERS TO ASK THREE QUESTIONS BEFORE THEY CHOOSE THEIR PERSONAL PROBIOTIC PATH:
1. What is the number of live cells per gram, expressed as "colony forming units per gram"

(CFU) – or "strength"?
2. The product stability/viability

(whether it is liquid or powder, and its shelf life)?
3. What are they are blended with (being active live yeast, enzymes or probiotics)?



Greg Perry, Annie Newton and Greg's son Scott, milk 1400 cows between two rotary dairies on 500 hectares (1250 acres) at Tatura in northern Victoria.
Click here – to see full story
Allan said, "One of the problems in this business is that farmers don't have all the information they need to make informed decisions about what they are buying.
"As soon as there is a health challenge on-farm, you need a high CFU count, viability [shelf life], and micro-encapsulation in order to change outcomes.
"There has been a lot of work done over the years, and while people mostly focus on single-strain yeasts, the probiotics and enzymes also have a synchronistic action in the rumen, and when they are formulated in the right combinations at the right strength, they make a powerful product."

Mainstream drugs have been largely kicked to the curb by the inclusion of two natural probiotic products in Josh and Nicole Gillie's busy calf-rearing operation at Tongala in northern Victoria.
Click here – to see full story
WHY STRENGTH MATTERS
So, why does it need to be stronger?
In describing the digestive tract of cattle, Allan said there's "a war in there".
"The more soldiers we have in there the better, and some soldiers in the probiotic world come better equipped for the fight than others. It's as simple as that. I don't know anyone using higher concentrations than us.
"There are myriad sub-par products out there now, which have very low amounts of CFUs. And when farmers buy very low amounts of the active ingredients in these products, it's a concern."
Australian veterinarian and former dairy farmer Dr Robyn Plunkett strongly agrees with Allan. Not only has she used the products, she now works with him.

Robyn said, "Australian farmers may not be aware, but to this point everyone was talking about millions of CFUs in probiotics. In BioBoost and BioCalf formulations we're talking billions – and, that's the critical difference."


Gary and Anne Budge have grown their business by growing their calves … and selling them..
Click here – to see full story
GI TRACT DRIVES IMMUNITY
Allan says the lower gastrointestinal (GI) tract drives 70-80% of a mammal's immunity, and getting the right concentrations of probiotics to that sweet spot isn't easy. So, there is no question in his mind that the micro-encapsulated probiotics in BioCalf and BioBoost are critical.
"If the probiotics come to life in the rumen, they aren't worth two-bob. The micro-encapsulated coating allows them to bypass the rumen and come to life in the lower GI tract, where they outcompete pathogenic bacteria and do their best work.
"Common sense says that you cannot get that mode of action with liquid supplements. They will give a nominal therapeutic effect, and it's better than feeding nothing. But, in my opinion, it's not the answer."
IMMUNITY DELIVERS RESULTS
Fuelling a healthy immune system leads to other vital, and more subtle, conversations.
"There is a reason one calf gets sick and another doesn't. It's usually because of suppressed immune function in those calves.
"If you've got strong immune function, and a strong load of beneficial organisms in the lower GI tract, it makes sense your calves can fight infection. And, we all know that healthy calves make highly productive cows."

Yucca schidigera, which is native to the deserts in south-eastern California, Baja California, New Mexico, southern Nevada and Arizona. Yucca has been used for centuries, and in US cattle production for more than 30 years. It is in no other product on the Australian market. Yucca contains naturally occurring saponins, which help bind protozoal pathogens such as Coccidia and Cryptosporidium. It also includes naturally occurring anti-microbials and anti-oxidants with complex properties that are still being researched.
Click here – to see full story
QUALITY ABOVE ALL
Results motivate Allan, and he's clear after more than two decades about what it takes to achieve that.
He sources one of the best quality active live yeasts from the USA, while the enzymes and micro-encapsulated high CFU probiotics come from Austria and Japan.
The products all have high "viability" ratings, which speaks directly to their quality. Put simply, it means the biological activity and CFU counts must still work two years after the labels expire in the USA.
"It always been about the results for me. I love hearing the positive stories coming back from farmers.
"And, with expenses continually mounting, it's important that farmers have all the information they need to get these purchases right."
PLATINUM CALF PROGRAMME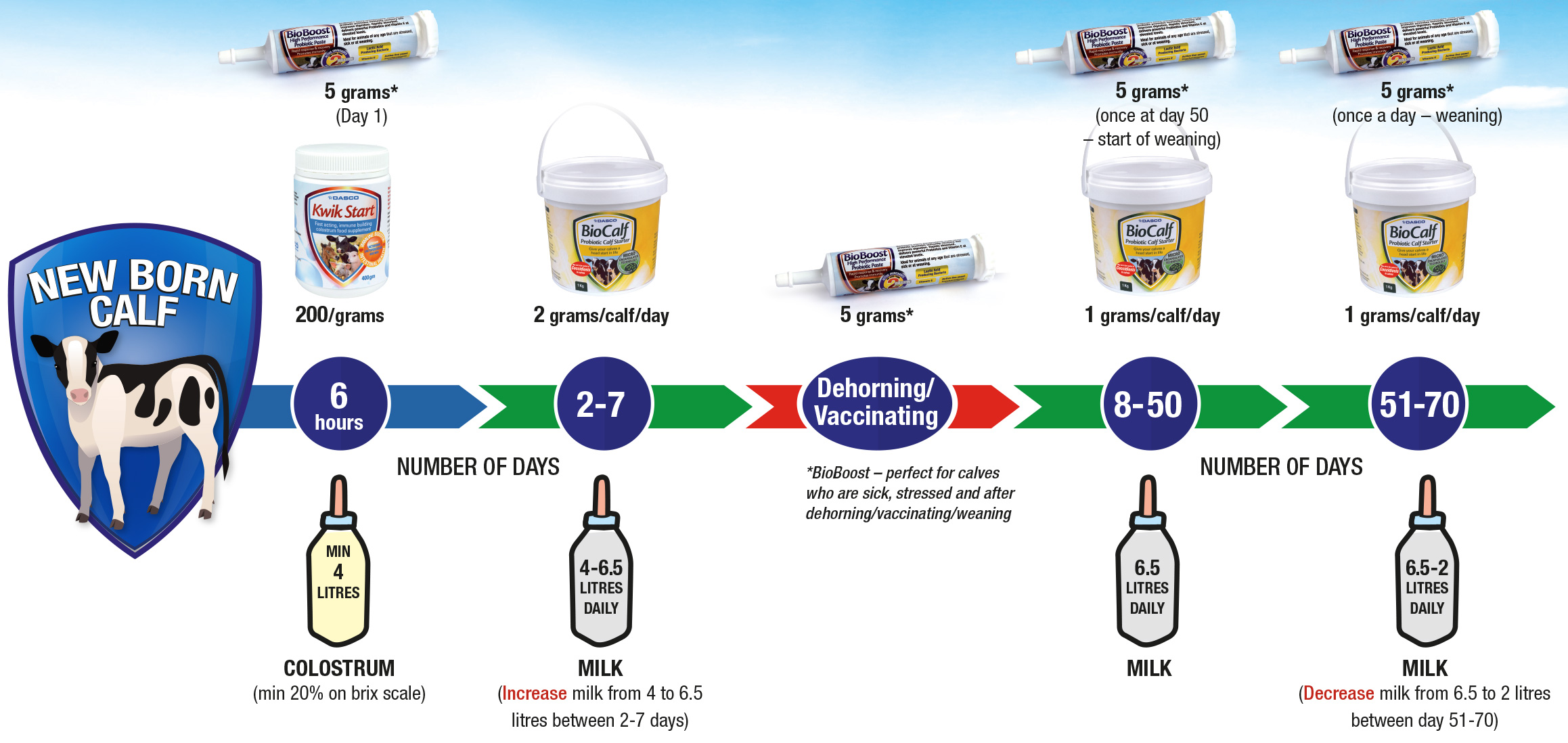 Click on the link for product information on – BioCalf – BioBoost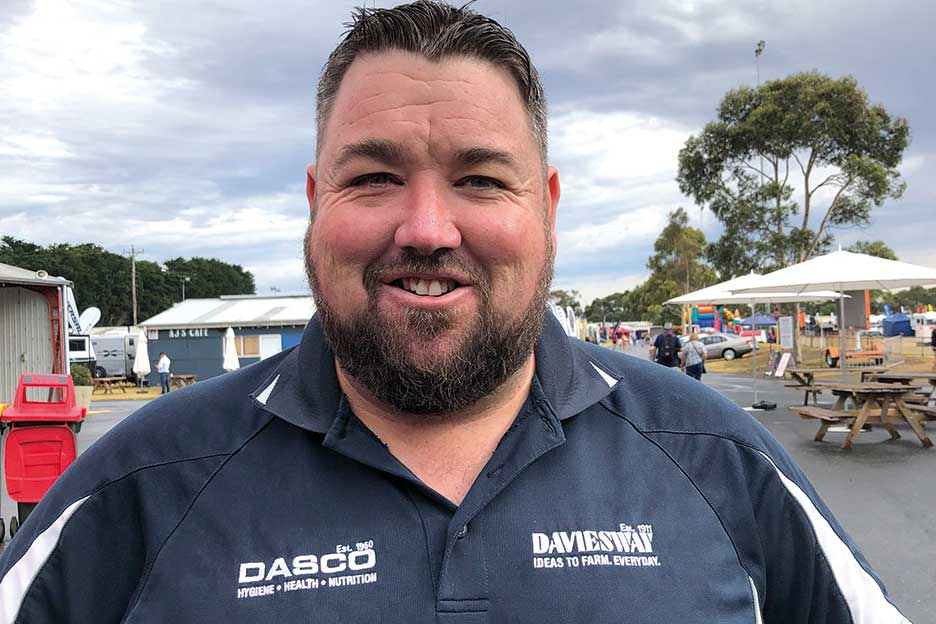 BRENDAN JOHNSON
Calf Rearing Specialist – Daviesway/DASCO
Mobile: 0419 950 044
Email: