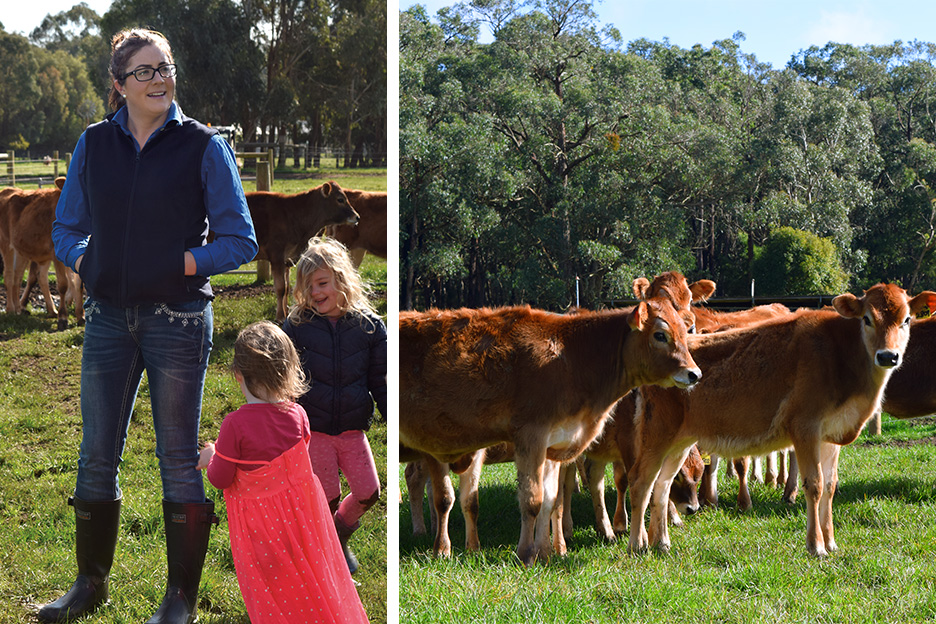 Carlie Barry rears calves for two operations, in between rearing a blended family of five children with her husband, Owen.
Click on the link for product information on – BioCalf – BioBoost – Stalosan F – Germidet 480 – Milk Taxi – Calf-Tel Multi Max hutches
Organic farm transition eased by power probiotics
Transitioning to organic farming left Carlie Barry with some gnawing gaps in her calf-rearing arsenal.
Carlie and her husband Owen own Woolvie Jerseys and Holsteins at Carpendeit, just outside of Camperdown in Western Victoria.
The couple don't have a lot of time, with 526.5 hectares (1300 acres) under them, which not only includes their own 450-cow registered herd, but also lower-order sharefarmers, who milk just under 300 head for the couple at a leased property.
Carlie and Owen have built their business from the ground up, in between juggling a blended family of five children, aged between one and 17 years – including three daughters aged under four. This energetic operation is pushing forward towards achieving full organic status by mid 2021.
Carlie is responsible for their calf rearing, with most calved in autumn.
The couple also buys in crossbred Jersey/Holstein calves from neighbouring registered Holstein herds, who use Jersey bulls on their first-calving heifers for ease of calving.
The Barrys use those calves as a seedstock base to improve the genetics on their sharefarmer's operation.

Rearing calves as nature intended


TREATING SICK CALVES
One of the challenges of organic farming is treatments when animals get sick.
Carlie has a precise approach. She is spotlessly clean; she feeds temperature-controlled milk from a mobile Holm & Laue milk taxi. It is a rare sight in the Australian dairying landscape to see every calf being fed individually through head-locked bales with individual teat feeders. But that's the programme at Woolvie Jerseys and Holsteins.
The couple also invested in 13 Calf-Tel Multi Max hutches to transition calves when they graduate to outside living, aged two weeks. The 220cm long x 273cm wide x 183cm tall hutch is ideal for small groups. They feature Calf-Tel's thermal shedding properties, cross-ventilation techniques, and an adjustable rear vent that can be opened for great airflow.
Calves are weaned at 10 weeks.
Wonderful hutch layout – maximising space and rearing calves in small groups
BIOCALF AN ORGANIC GAME-CHANGER
BioCalf is a double-strength probiotic powder milk additive for calves, which contains Australia's only all-natural coccidiostat. It is added to the milk every day. BioBoost is a probiotic paste, which is 40 times stronger than any other probiotic on the market. Easily administered orally, the paste is ideal for new, sick and stressed calves.
"In the last couple of years I'd done a fortified-milk programme with milk replacer," Carlie said. "I wasn't really happy because the Jerseys are finnicky drinkers, and I really struggled through the first three to four weeks with nutritional scours. Crossbreds, you can pretty much do anything to and they will be right. They will get sick, and they will still drink. The Jerseys can die in a day.
"I'm a big believer in probiotics for myself and I had tried another product before BioCalf, but I was wasn't really getting the results I needed to justify the additional expense.
"So, this year I decided to feed a larger quantity of milk, less grain and to include BioCalf and BioBoost. Brendan [Daviesway's calf rearing specialist] explained about the added strength of BioCalf and BioBoost, and how probiotics can help when you're feeding high quantities of milk.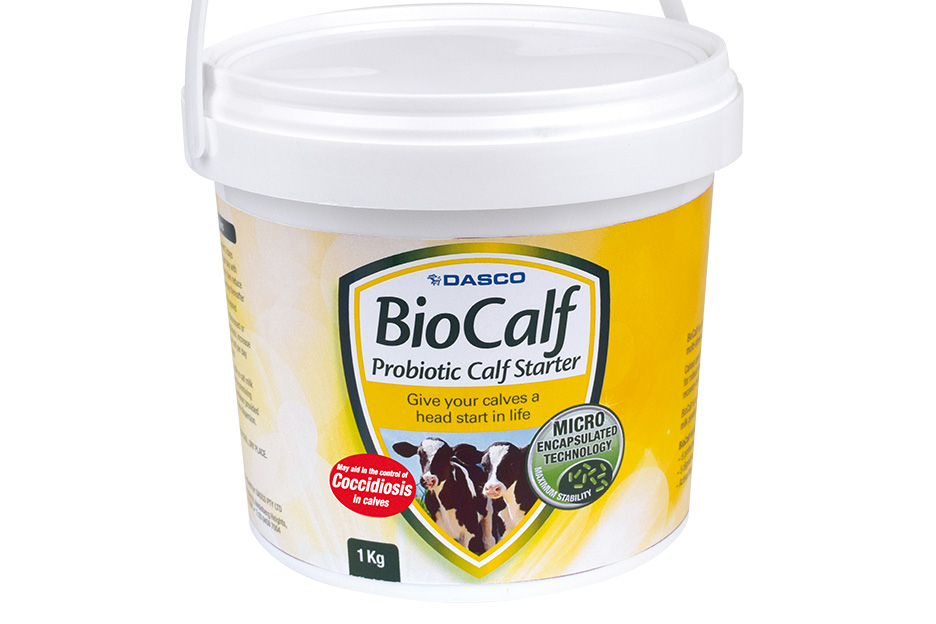 BIOCALF – Double the strength of standard probiotic powders
"At peak this season, my calves have been getting nine to 10 litres of milk a day – even the Jerseys – and, they have never looked better. They are the best calves I've ever had – by far. Honestly, it's word of mouth is how these things get passed along.
"I can't believe how shiny their coats are, how well conditioned they are, and how much capacity they have. I've even had people ask me if my crossbred calves are Angus, because they are so solid and jet black."

TAKING BACK THE POWER
Carlie said BioBoost has been a welcome support as an added back-up with sick or stressed calves.
"The Bioboost has been really important with the prevention side of things. In the last couple of years - before we included BioBoost and BioCalf in our programme - I had nothing in my tool kit except electrolytes.
"They now get the BioBoost paste when they come into the calf shed, and again when they move outside," Carlie said.
"Because I also feed each calf individually, I can quickly tell if one of them isn't 100%, and I give them the BioBoost straight away.
"I recently had a couple of calves that looked like they were getting pneumonia after a cold front went through. They were flat, and they had runny noses in the morning, and so I gave them the BioBoost.

BIOBOOST – 40 times more concentrated probiotic paste
"That night they were perfect.
"This year, I also bought some calves in from a different farm that I don't usually use. As soon as I picked them up, I could smell them. I used my Daviesway Scour Test Kit and confirmed that they had Rotavirus and Crypto (Cryptosporidium parvum), and I decided I'd do a trial with them using the probiotics.
"All I did was give them BioCalf, no electrolytes, and I added activated charcoal in their water [a handful per 10-litre bucket]. They all came good in a couple of days."
DAVIESWAY'S FULL SUPPORT SYSTEM
Carlie is a walking advertisement for Daviesway's comprehensive calf-rearing division. She says the mobile milk taxi, which warms and holds milk at temperature, plus mixes and accurately measures milk, has been a life-saver for her. They bought it when she was seven months pregnant and determined to keep feeding her calves while battling with the physicality of lifting buckets.
"My back was starting to concern me, along with my health, and my pelvic floor," Carlie said. "The Taxi was expensive, but what price do you put on your health? With the Milk Taxi I was able to even feed the calves while I was in labour, before I went to the hospital.
"I'd never go back to feeding calves the way I used to do it now – no way."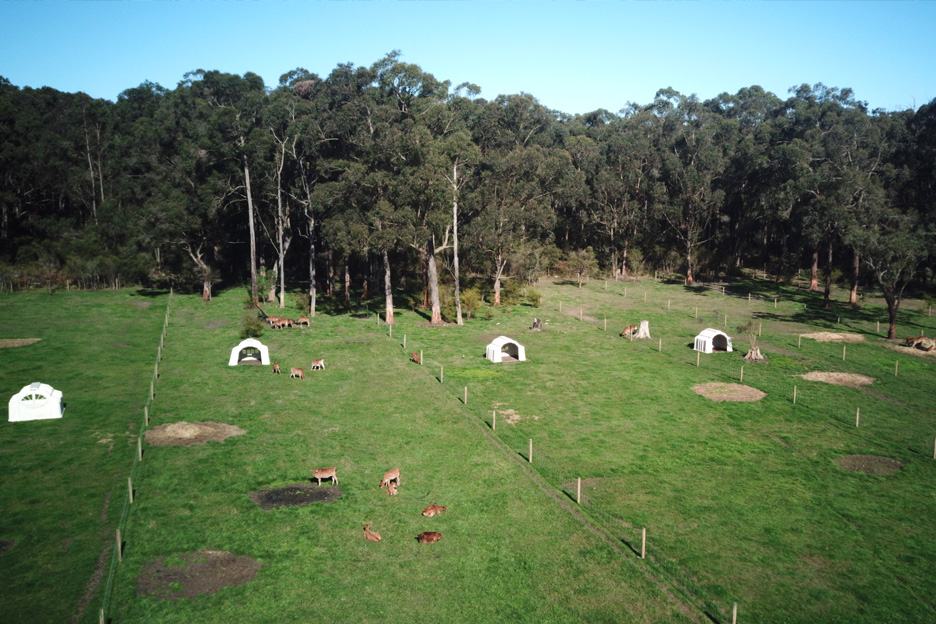 KEEPING IT CLEAN
Carlie also uses popular European shed sanitiser, Stalosan F and Germidet Stalosan has a pH below four. The non-toxic powder works because it includes high levels of copper and iron oxide – both well-known antimicrobials. The unique combination of minerals also binds up to 100% moisture where ammonia is present. Germidet is a non-irritant, powerful and biodegradable germicidal detergent and general disinfectant.
"I'm big fans of both products. There was a point where I couldn't get the Germidet and I tried another product, but it was nowhere near as good. I use the Stalosan in the calf shed whenever new calves go in. I mostly use the Germidet in the outside hutches and to wash my teat feeders and test buckets."
As, in everything Carlie said she is speaking up for one reason.
"People don't always believe sales reps, but they do believe other farmers, and I've got used to recommending BioCalf because I believe in it, and I want to help others."
STALOSAN 'THE BEST'
Bedding has been another area to get plenty of attention. The calves are bedded in pine shavings with pine woodchips at the front of the pens.
Carlie is sold on popular European shed sanitiser Stalosan F. The Danish product has a pH below four. Its non-toxic powder works because it includes high levels of copper and iron oxide, both of which are well-known antimicrobials; the unique combination of minerals binds up to 100% moisture where ammonia is present.
Download printed magazine –


Powerful probiotics for calves
GERMIDET $15.30* Vs VIRKON S $39.00* (Per 100lt solution)
*please check for latest price comparison


DIRECTIONS:
1. Clear shed of last season's bedding (ideally when the season ends to rest the shed)
2. Spray pens, walls, and gates thoroughly with Germidet – mix at 200ml per 10lt water
3. Spread Stalosan F at 50g/mt2 on the ground in pen
4. Bed with a minimum depth of 150mm
5. Spread Stalosan F at 50g/mt2 on the top of bedding once every 7 days (and maintain a minimum depth of 150mm of bedding at all times)
6. Stalosan F is safe to use during the season
7. Repeat process every time a pen is emptied
Click on the link for product information on – BioCalf – BioBoost – Stalosan F – Germidet 480
PLATINUM CALF PROGRAMME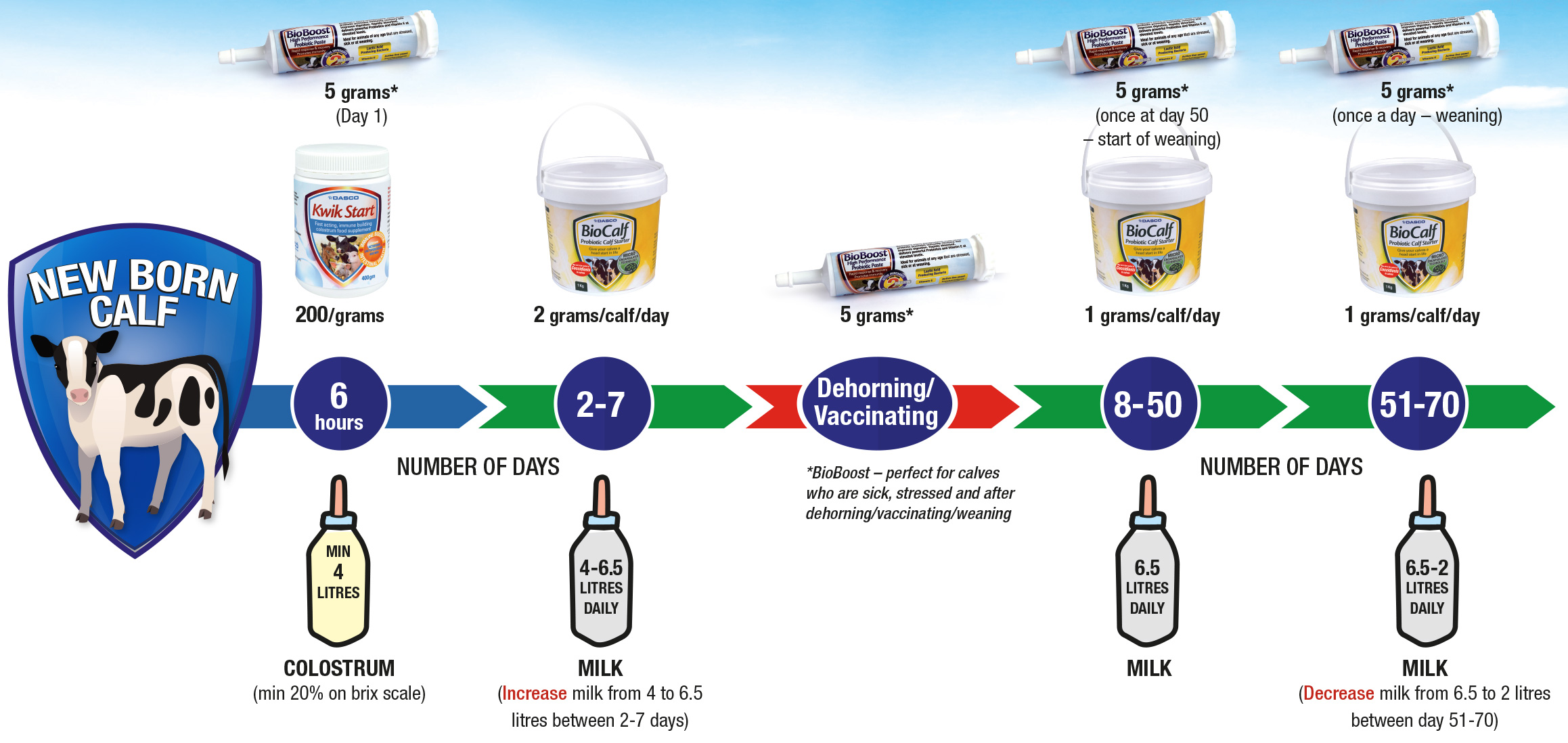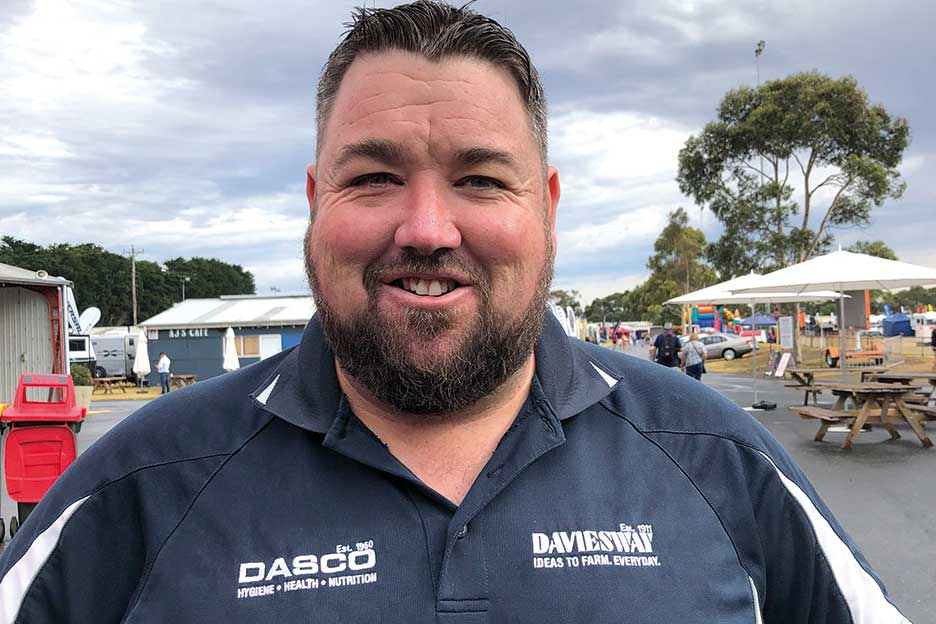 BRENDAN JOHNSON
Calf Rearing Specialist – Daviesway/DASCO
Mobile: 0419 950 044
Email: