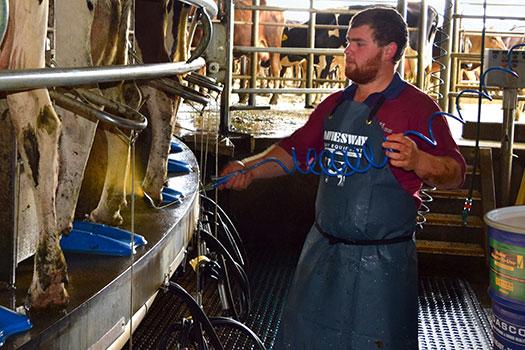 Its people, products, connections and flexibility remain its core strength. Importantly, Daviesway's level-one management team (which includes seven profile names in the industry) boasts 120 years combined industry experience with Daviesway – 17 years on average – all practical hands-on managers who have been promoted in-house throughout their careers. The Australian family-owned company blends its important international connections (who have the best automation, time and labour-saving technology the global dairy industry has to offer) with its own in-house manufacturing to achieve the best result for Australian milk producers.
Daviesway's commitment to its projects meant that in 2016 it won the contract to build the new BouMatic 80 Stall Xcalibur 360EX Basement Rotary for Moxey Farms, which is now part of Australian Fresh Milk Holdings at Forbes in NSW. Moxey Farms is one of Australia's largest single-site dairy operations. The new dairy has a capacity of 7000 cows three times a day.
Daviesway was also the last company standing in 2017 to build a $2.7-million 60-bail rotary dairy for one of Australia's oldest companies, VDL Farms (Moon Lake Investments Pty Ltd) in Tasmania.
So, whether it's a single mobile milker, through to a state-of-the-art herringbone, rotary installation, and/or fully housed cows with milking robots, Daviesway's team always walks side-by-side with their clients through planning, construction, supply, installation and training.
When the installation is complete, its skilled aftersales service and maintenance team kick in. Rest assured, you're never alone.
Herd Management - Daviesway Dairy Solutions Australia